Chad M. Coady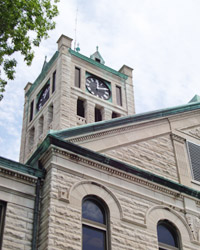 Supervisor of Assessments
(217) 824-5900
Monday-Friday
8:00am – 4:00pm
Mailing Address:
101 S. Main St.
Taylorville, IL 62568
2021 Farmland Assessment Review Committee meeting information
**SENIOR FREEZE INSTRUCTIONS**
The Supervisor of Assessments office oversees the inventory and valuation of real property in the county. The Supervisor of Assessments also assists the township assessors as necessary with their duties. In addition, the exemptions that are available to property owners are handled through this office. Property owners who believe that their property valuation is incorrect should stop by the office to obtain a copy of the property record card and, if necessary, file a complaint with the Board of Review.
The office maintains the property record cards, parcel maps, and aerial photography of the county. We also have a Geographic Information System in place to more readily assist property owners who have questions regarding property locations and boundaries.
2020 REAL ESTATE ASSESSMENT PUBLICATIONS
2019 REAL ESTATE ASSESSMENT PUBLICATIONS
Christian County Board of Review
2020 Board of Review Assessment Publication
The Christian County Board of Review comes into session to hear the complaints filed regarding property valuation.  The Christian County Board of review will go into session on Thursday January 16th and remain in session until hearings are complete.
Deadline for 2020 Board of Review Complaints is October 30th, 2020.  Complaints must be postmarked or turned in by this date or they will not be accepted.
Board of Review – Rules & Procedures
**Resources & Forms**