Mike Crews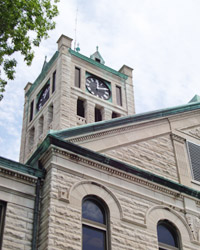 (217) 820-0912
Dispatch:
(217) 287-7227
Mailing Address:
301 West Franklin St.
Taylorville IL. 62568
Emergency Operations:
202 N. Main St.
Taylorville IL. 62568
Request for public participation to assist Christian County with
updating our Hazard Mitigation Plan
Please take a few minutes to complete this questionnaire and help us update our plan. Thank You!
Hazard Mitigation Questionnaire
"Planning, to Stay a Step Ahead"
The primary responsibility of the Christian County Emergency Management Agency (CCEMA) is to better prepare Christian County for natural, manmade or technological disasters.
Our goal is a better prepared county through planning, training and education. CCEMA coordinates the county disaster mitigation, preparedness, response and recovery programs and activities.
During a disaster, a 24-hour Emergency Operations Center made up of local Policy and Contol members will coordinate the response and operations of resources.
Educational Opportunities
The Christian County Emergency Management Agency (CCEMA) strongly encourages education as the key ingredient to proper disaster preparedness. For that reason a host of preparedness classes have been made available to further your education and provide outreach services to the public.
Consider this…There are communities where the survivability rate from sudden cardiac death is greater than the national average simply because they have made teaching CPR a priority.
Comparatively, more lives could be saved after a tornado if citizens followed the necessary steps during severe weather; steps that your community has promoted each year during the severe weather season. What a positive statement for any community!
Public safety is the number one priority of government. The CCEMA strongly encourage every community and individual to take advantage of the preparedness activities provided in Christian County. When a disaster occurs, you will see a more proactive response from the citizens who are better informed.
Five of the nine classes listed below are provided free of charge. If there is a certification card attached to the class, a fee is collected through the certifying agency. (Ex. American Red Cross).
Generally, all that is needed for a off site class presentation is a location that can seat a 20-30 person audience, and a projection screen.
To schedule a class, simply contact the CCEMA office phone at 820-0912.
Several helpful reference websites are included.
Class List
| Class | Cost |
| --- | --- |
| CPR for the Adult, Child and Infant | $20.00/Student |
| Basic First Aid | $20.00/Student |
| First Aid for the Professional Rescuer | $20.00/Student |
| First Responder | $40.00/Student |
| Basic National Incident Management System (NIMS) Compliance | $20.00/Student |
| Hazardous Materials Awareness | $100.00/Class |
| Severe Weather Outreach-"Are you prepared, and what happens locally?" | Free of Charge |
| Basic Severe Weather Spotting | Free of Charge |
| Disaster Exercise Assistance | Free of Charge |